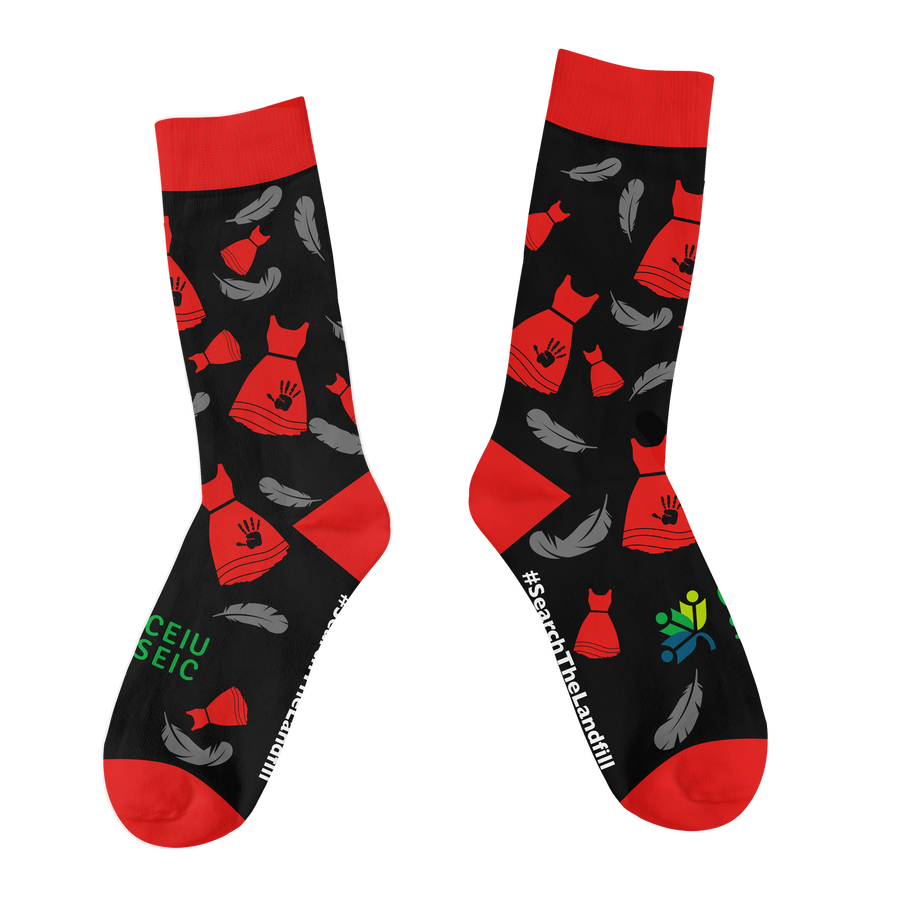 Red Dress Socks
One pair sold, three pairs donated.
All proceeds donated to #SearchTheLandfill
The Canada Employment Immigration Union (CEIU) stands in solidarity with MMIWG2S+ and #searchthelandfill. 
Funds raised from the sale of these socks will be donated to the families, community members, and advocates who are keeping the camps and sacred fires burning in Winnipeg, Manitoba until the landfills are searched for the bodies of missing women Marcedes Myran, Morgan Harris and 

Mashkode Bizhiki'ikwe (Buffalo Woman). 
Le Syndicat de l'Immigration et de l'Emploi du Canada (SEIC) exprime sa solidarité avec les MMIWG2S+ et #fouillezledépotoir. 
Les profits amassés à la vente de ces chaussettes seront remis aux familles, aux membres de la communauté et aux défenseurs qui gardent les camps et les feux sacrés en feu à Winnipeg, Manitoba, jusqu'à  les dépotoirs soient fouillés pour retrouver les corps de Marcedes Myran, Morgan Harris et Mashkode Bizhiki'ikwe (Buffalo Woman). 
Made from 80% cotton, 15% polyester, and 5% spandex.
Almost 400,000 pairs donated so far!
For every single pair of socks that Sock Rocket sells, we donate THREE pairs to organizations providing clothing to those in need. That means orders from our website, sock of the month subscriptions, custom socks, wholesale, as well as markets and events. Everything. We aren't doing it for the props, in fact we think there's a lot more we can do. We're doing it because we think it's the right thing to do. We want to walk the walk and show everyone that it's possible to be profitable AND socially responsible inside a small business model!
Our mission is to donate 1,000,000 pairs of socks to agencies and initiatives providing clothing to those in need. It's a lofty goal, but one that we feel confident we can achieve. To date, we've donated almost 400,000 pairs of socks to over 250 different organizations. We'd love to have you on board for this journey! Pick up some socks today and we'll donate three pairs for every pair you buy!
Our Donations