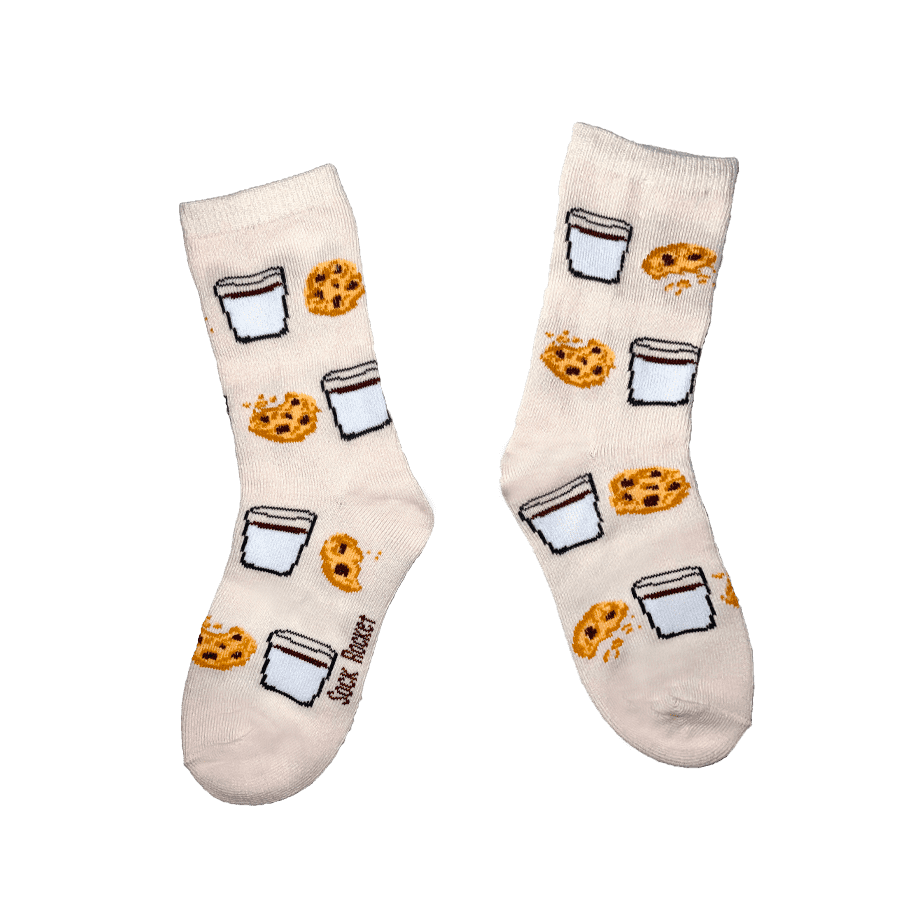 Kids Milk and Cookies Socks
One pair sold, three pairs donated.
Our milk and cookies socks are a batch made in heaven! No matter what you dough, make sure you pick up a pair of these for the little cookie monster in your life!
Small (shoe size 4-9) will fit most kids age 1-4.
Large (shoe size 10-2) will fit most kids age 4-8.

For kids who wear size 3 or bigger, we suggest our adult small size!
Please note that leg length / appearance may vary between designs of the same size.
Made from 75% cotton, 20% polyester, and 5% spandex.
Learn more about the agencies we support and where your donations go.
Almost 400,000 pairs donated so far!
For every single pair of socks that Sock Rocket sells, we donate THREE pairs to organizations providing clothing to those in need. That means orders from our website, sock of the month subscriptions, custom socks, wholesale, as well as markets and events. Everything. We aren't doing it for the props, in fact we think there's a lot more we can do. We're doing it because we think it's the right thing to do. We want to walk the walk and show everyone that it's possible to be profitable AND socially responsible inside a small business model!
Our mission is to donate 1,000,000 pairs of socks to agencies and initiatives providing clothing to those in need. It's a lofty goal, but one that we feel confident we can achieve. To date, we've donated almost 400,000 pairs of socks to over 250 different organizations. We'd love to have you on board for this journey! Pick up some socks today and we'll donate three pairs for every pair you buy!
Our Donations